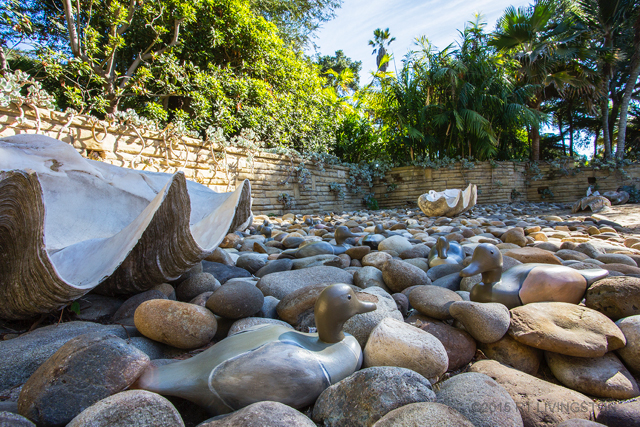 SITTING DUCKS:HIDING IN PLAIN SIGHT/SITE FLOCK Lotusland, Montecito, CA RT Livingston 2015
SITTING DUCKS: HIDING IN PLAIN SIGHT/SITE:
SITTING DUCK comes from the time in a duckling's life when the pinfeathers haven't yet developed into feathers. Trapped on ground they are at their most vulnerable. This installation is a metaphor for our own vulnerability and an idiom warning of attack. The piece is about the plight of birds everywhere, whether through the site of a gun, or through the sites of corporate chemical barrels. Hiding in plain sight refers to
looking and not seeing
something obvious
Wooden mallard decoys, camouflaged as rocks, get lost in a maze of river rock.
Their survival depends on them not being seen.
Camouflage is the act of making something blend into its surroundings. Camouflaging hunters' decoys is an absurdity. Decoys are meant to attract other ducks, not hide from them. Its origins are in the First World War when camouflaged battle dress became standard issue.
The military explored
Pablo Picasso and George Braque's cubist concepts
in the development of the art form.
http://www.lotusland.org/flock-artists-installations/