RT rt.livingston@gmail.com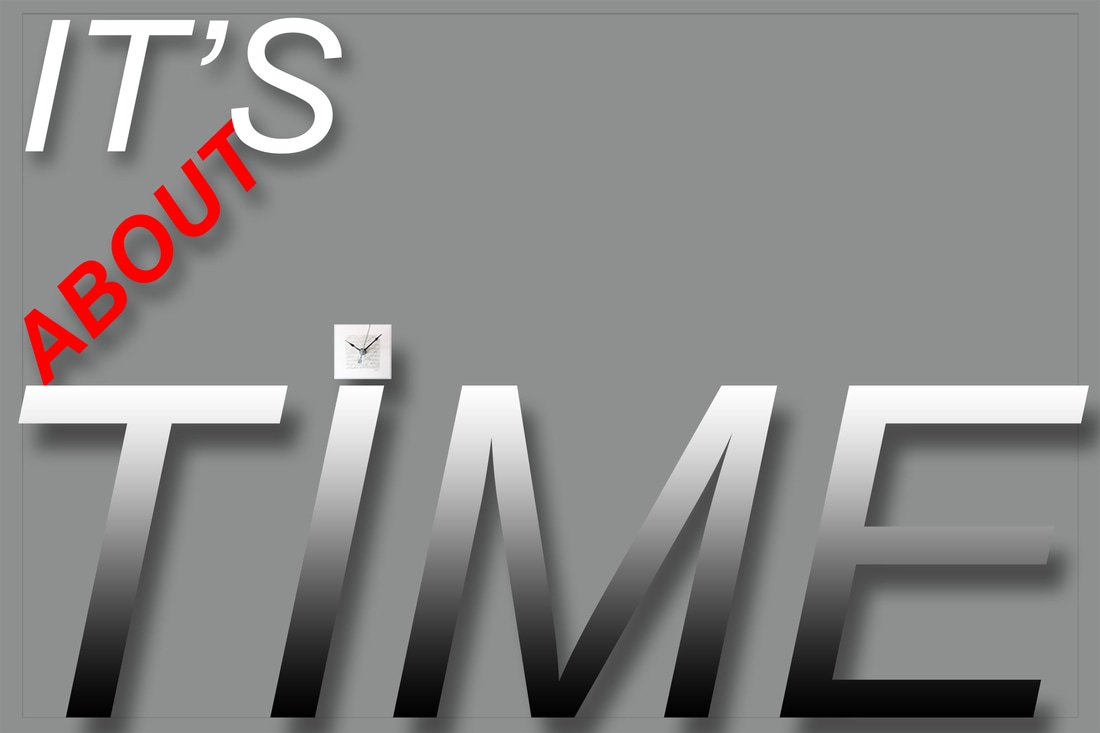 ---

RT Livingston installing IT'S ABOUT TIME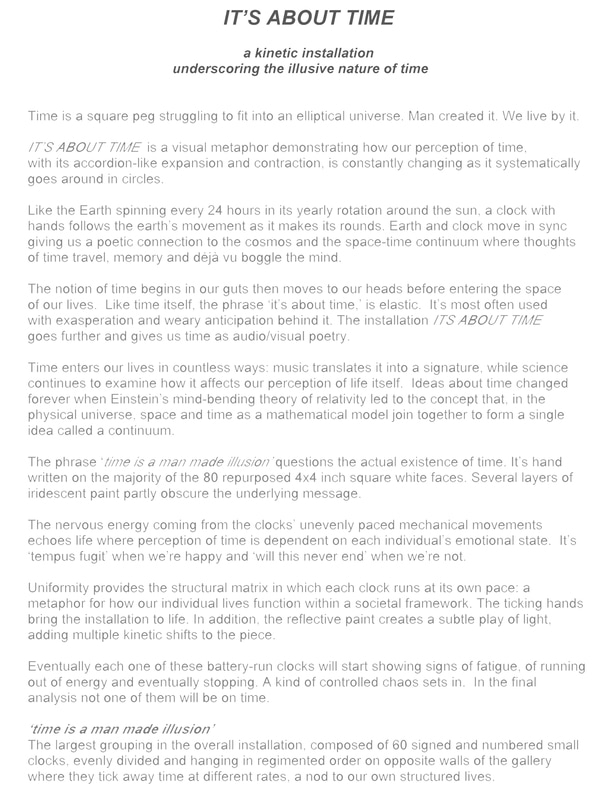 FLOCK:birds on the brink Lotusland 01.27-05.23.2015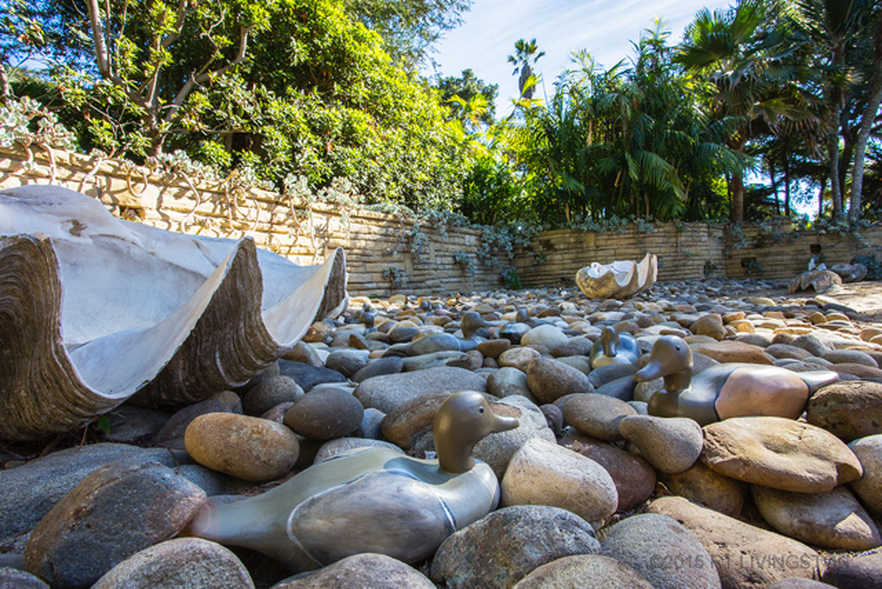 SITTING DUCKS:HIDING IN PLAIN SIGHT/SITE


camouflaged wooden mallard decoys
Lotusland, Montecito, CA FLOCK: birds on the brink 2015


The term SITTING DUCK comes from the time in a duckling's life when the pinfeathers haven't yet developed into feathers. Trapped on ground they are at their most vulnerable. This installation is a metaphor for our own vulnerability and an idiom warning of attack. The piece is about the plight of birds everywhere, whether through the site of a gun, or through the sites of corporate chemical barrels. Hiding in plain sight refers to
looking and not seeing something obvious

Wooden mallard decoys, camouflaged as rocks, get lost in a maze of river rock.
Their survival depends on them not being seen.

Camouflage is the act of making something blend into its surroundings. Camouflaging hunters' decoys is an absurdity. Decoys are meant to attract other ducks, not hide from them. Its origins are in the First World War when camouflaged battle dress became standard issue. The military explored
Pablo Picasso and George Braque's cubist concepts in the development of the art form.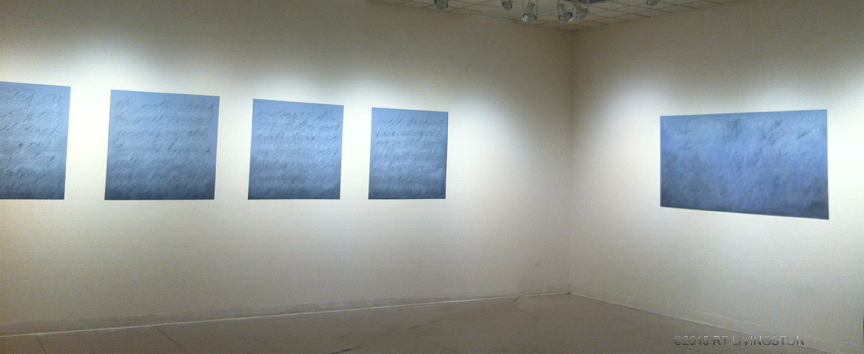 'handwriting on the wall'


Apex Gallery South Dakota School of Mines and Technology Rapid City, SD
3'X15' acrylic/graphite/pastel
Jan 16-Feb 20, 2015

'handwriting on the wall'
Apex Gallery South Dakota School of Mines and Technology Rapid City, SD
3'X3' acrylic/graphite/pastel
Jan 16-Feb 20, 2015

WINDSOCK RIDGE
ELINGS PARK
SANTA BARBARA CA
2003
WINDSOCK CURRENTS
CRISSY FIELD
SAN FRANCISCO CA
2005
W i n d s o c k C U R R E N T S
M A K I N G T H E I N V I S I B L E V I S I B L E
Ecological Public Art at Crissy Field for United Nations World Environment Day
June 1-30, 2005 Installation by RT Livingston
WindsockCurrents
is a site-specific public art installation created by New York conceptual artist RT Livingston. The work honors the past as it looks to the future.
RT Livingston's placement of sixteen reengineered commercial airport windsocks stretches nearly 1100 feet along historic Crissy Field, symbolically reviving the most intact 1920's airfield west of the Mississippi. Livingston observes, "Crissy Field, once San Francisco's first line of strategic defense, is the ideal site for an artwork that demonstrates the potential for wind as the first line of defense against our continued dependence on fossil fuel." The Golden Gate Bridge, as the symbol of San Francisco's willingness to bridge the cultural divide, is the perfect backdrop for an installation that hopes to encourage the bridging of the energy divide.
WindsockCurrents
speaks to the relevant issues of the moment. The word current means belonging to the present time or a steady onward movement such as the flow of an electric charge. The installation manifests the real-time movement of wind as it symbolizes the potential for electrical current to be tapped from its energized charge.
WindsockCurrents
, composed of preexisting industrial materials, makes the point that in order to harness any kind of energy source industrial apparatus must be placed in the environment. The installation's black steel vertical poles, topped by "International Orange" windsocks, plays off the red/orange span of the Golden Gate Bridge. Color is important. "International Orange," the commercial color name, carries far reaching global, cross cultural significance. For example, while Buddhists ascribe a spiritual meaning to orange, we in the United States have recently come to think of it as a warning against terror. In color theory, orange visually vibrates against its blue-sky compliment.
WindsockCurrents
is a project of ecoartspace created for the United Nations World Environment Day 2005, in cooperation with the Golden Gate National Recreation Area.
http://www.greenmuseum.org/generic_content.php?ct_id=229#livingston
WINDSOCK ZIZZAG
EMPIRE STATE PARK
DUMBO BROOKLYN
NYC
2003
TURNSTYLE
WATER AIR
acrylic on metal, plastic, florescent light
approx: 48" X 36" X 36"
Palm Center For Contemporary Art
Palm Beach, Florida
1984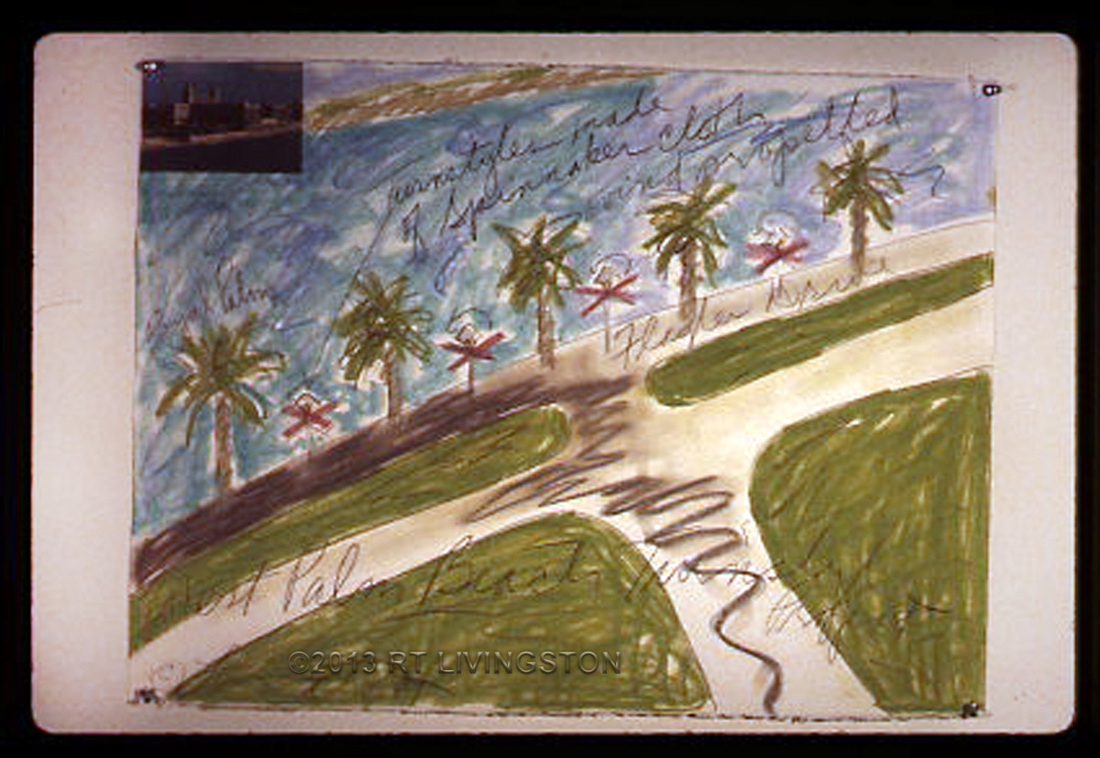 TURNSTYLE PROJECT:
WIND INTO WATER
Proposal sketch for the installation of wind turbines to power water coolers along Palm Beach's intercoastal Flagler Drive.
Naive plan; good idea
1984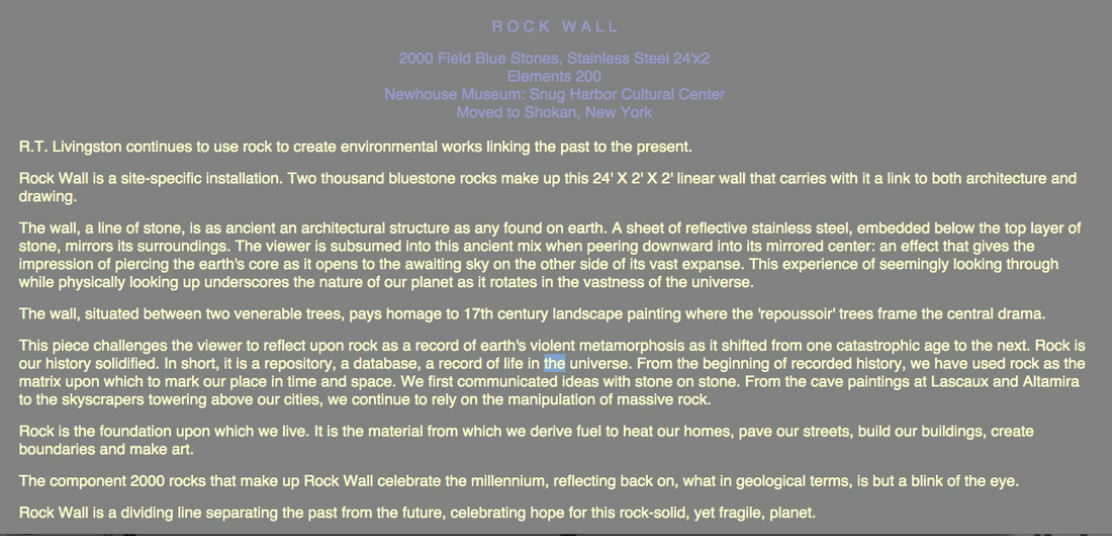 BOLDER/BOULDER DRAWINGS

SPRINGS, EAST HAMPTON NY 1983